W.I.N.G.S. Refuge When In Need God Saves!
Help for Women and Children Who Are Victims of Domestic Violence
Psalm 91:4 He shall cover you with His feathers, and under His wings you shall take refuge.
DO YOU NEED HELP?  YOU ARE NOT ALONE.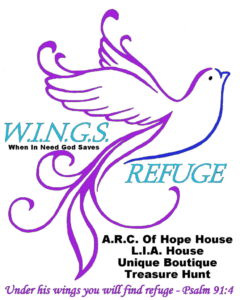 Call 911 if you are in immediate danger!
Call the Safeline for 24 hour assistance:  417-296-5308
Talk to someone you trust about what is happening.
Make an emergency kit that includes money, medications, keys and important documents.
Be sure to discuss safety with your children and how they can get help if violence occurs.
For I know the thoughts that I think toward you, says the Lord, thoughts of peace and not of evil, to give you a future and a hope. Jeremiah 29:11
To comfort all who mourn in Zion, to give them beauty for ashes, the oil of joy for mourning, the garment of praise for the spirit of heaviness; that they may be called trees of righteousness, the planting of the Lord that He may be glorified. Isaiah 61:3
Warning Signs of An Abusive Relationship
Withhold approval or affection as punishment?

Continually criticize you, call you names or shout at you?

Ignore your feelings?

Become very jealous or harass you about imagined affairs?

Manipulate you with lies and contradictions?

Insist you dress a certain way?

Humiliate you in private or in public?

Insult or drive away your family?

Punch, slap, shove, bite, kick, strangle or hit you?

Rape you or force you to participate in sexual activity which is unacceptable to you?

Threaten to kidnap the children, commit suicide, or kill you or a family member if you leave?
If you answered "yes" even once, you may be in an abusive relationship.
KY3 News Story on Domestic Abuse >> Watch Video
Domestic violence is a growing issue in the Ozarks. Data shows that domestic abuse cases in Springfield and throughout Greene County were at a five-year high in 2016. As the number of abuse cases continues to rise across the Ozarks, one Cedar County shelter is struggling to fight the troubling trend.
Mission:
To bring hope, healing and restoration to women coming out of domestic violence through the love of Jesus Christ and the power of His Word.
Vision:
To provide shelter for women and their children, who are coming out of domestic violence; to empower them to be a productive part of society and cultivate a loving environment for them and their children by helping them find a suitable home, and financial, emotional, physical and spiritual stability.
Call us today! 417.296.5308