THRIFT STORES:
W.I.N.G.S. Refuge owns and operates two thrift stores, "Treasure Hunt", in El Dorado Springs and "Unique Boutique", located in Osceola, Missouri. Revenue generated from these stores provides 50% of our operating budget. They also provide a valuable service to the community by providing affordable clothing and home goods.
---
UNIQUE BOUTIQUE THRIFT STORE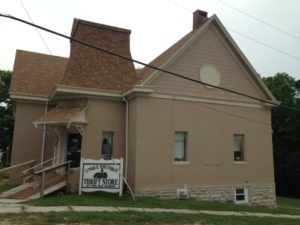 460 Market Street
Osceola, Missouri 64776
660-207-2161
Store Hours:
1st Tuesday & Saturday of Each Month
Every Week:
Wednesday 9 a.m. to 2 p.m.
Thursdays 10 a.m. to 4 p.m.
Friday 9 a.m. to 2 p.m.
Saturdays 9 a.m. to 12 p.m.
The Unique Boutique Thrift Store has been an important part of the W.I.N.G.S. Refuge program from its inception. The store is located just blocks from downtown Osceola. The building is 110 years old and is an important part of history for the people who shaped the town of Osceola not long after the Civil War. It was originally a Methodist church first framed in 1878. In 1903, plans were made to enlarge it and add a brick veneer. Memorial windows were donated and a choir balcony added. It was officially dedicated in 1907. Showing our commitment to preserve this historical landmark, in February of 2017, we applied for and were awarded a grant of $10,550 to make needed repairs from the COMMUNITY FOUNDATION of the OZARKS, and the Dorothy Coover Charitable Foundation.
---
TREASURE HUNT THRIFT STORE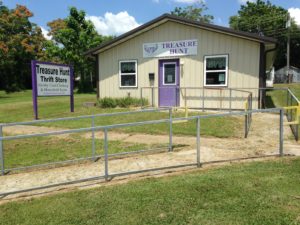 109 West Broadway
El Dorado Springs, MO 64744
Phone# 417-955-2235
Store Hours:
Tuesday - Friday 10 a.m. to 3 p.m.
Saturdays 10 a.m. to 12 p.m.
The Treasure Hunt Thrift Store is in the heart of downtown El Dorado Springs, MO.  It was built with a $42,000 grant received from the Finis M. Moss Charitable Trust.  The thrift store's location was chosen to better serve the shelter residents and to meet the need for clothing and home goods in the local community.  The revenue generated from this store and Unique Boutique provide funding for the numerous services provided by W.I.N.G.S. Refuge.
---
W.I.N.G.S. Refuge relies on the help of volunteers and donations for our two thrift stores. Funds generated from these stores are crucial and allow us to continue serving women and children who are coming out of domestic violence. Click on the "Get Involved" and the "Donate" tabs at the top of this page for more details on how you can help.